Welcome to Denver Writes!
Our mission is to provide young writers in the Denver area with a supportive community and creative opportunities to express themselves through writing. We achieve this by offering monthly workshops, intensive and expeditionary summer camps, and exciting special events.
9th Annual Valentine's Workshop  & Fundraiser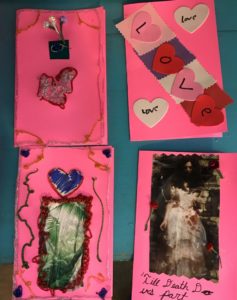 Our (second) favorite annual workshop is just around the corner on February 3rd!
Sign up for this workshop here!
Followed by our Valentine's Fundraiser on February 10th at BookBar from 10 -2. As with previous years, you'll be able to order a custom valentine made by one of our amazing writers!
Sign up for this workshop here!
The Deadline for Pre orders is 9:59 AM on February 10th PRE ORDER HERE or order your card in person during our fundraser!
From the Blog
Our (second) favorite annual workshop is just around the corner on February 3rd! Sign up for this workshop here! Followed by our Valentine's Fundraiser … [Read More...]
I was recently contacted by Libby from OnDenver, and she wanted to include Denver Writes in their weekly non-profit spotlight! I was nervous and … [Read More...]
Denver Writes Interviews Local Musicians Because of all the fun we had in interviewing musicians for this year's Denver Day of Rock, we were asked by … [Read More...]