What's better than knowing we've got amazing young minds writing their hearts out? Getting to read it, of course! Here, we feature the work of our writers across many different genres. Be sure to check back often as we will be adding new pieces of work with each of our workshops. By the end of this year, we're hoping to have a published anthology of stories to share with all of you. More to come!
Everyday Magic (April 11th, 2015)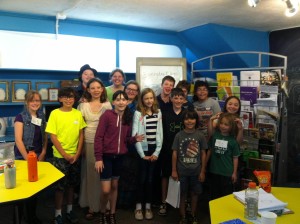 During this workshop, our writers learned to differentiate between fantasy, science fiction, and fairy tales as they crafted their very own tales of magic filled with secret portals, talking hedgehogs and even mermen.
Be prepared to be whisked away into another world as you read their collection of stories HERE!
Denver Writes Unplugged/Denver Day of Rock (May, 2015)
After a very successful Denver Writes Unplugged workshop on May 2nd, 2015, our young writers interviewed a number of bands in preparation for this year's Denver Day of Rock on May 23rd, 2015 in downtown Denver!
Check out the feature written by LUD!'s Nate Todd HERE and read the band interviews below:
Writing an advice column is not as easy as it sounds! It requires empathy, awareness and skill, all of which our young writers appear to have learned during this fun-filled workshop!
Check out the advice our writers give to their readers about everything from places to go on vacation to what to do when it's raining to who, between Batman and Superman, is the better superhero!
Click HERE to see it all!
Creating Colorful Characters (June 13, 2015)
When asked what makes a story memorable, this group was unanimous. The characters, of course!
And so, local author Chris Howard challenged the group to write the most descriptive character they could that would be headed for outer space aboard a ship blasting off in the very near future. Check out the humans, animals, and even worms that we came up with HERE!