2018 Programming Calendar
*Please note that we have changed our policy, we no longer require a deposit, instead we suggest a donation to Denver Writes*

All Workshops held at BookBar from 10 AM -1 PM, unless noted.
2018 Workshop Schedule!
In our two part workshop, writers will first create custom cards, and then the following week create custom poems,  Cards are available to either order ahead here or on demand at BookBar during our special Fundraiser!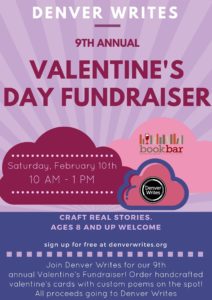 Sign Up for February 10th Custom Poems and Fundraiser
March 17th – ScreenWriting
In this exciting workshop our writers with learn the art of Hollywood screenwriting by creating short scripts that follow industry standards for formatting, dialogue and scene structure.
April 21st – Travel Writing
May 19th – Songwriting
June 9th – Bike Poetry with Bike Denver & Mathias Svalina at Blair-Caldwell Library
In a special collaboration with Bike Denver, writers will be taken on a 30 minute guided tour and followed by poetry creation! Helmets will be provided. Bikes will be provided if requested in advance.
IF YOU HAVE SUGGESTIONS OR QUESTIONS EMAIL AT HELLO@DENVERWRITES.ORG
---
PREVIOUS WORKSHOPS
2018
2017
WRITTEN GIFTS AND WRITTEN GIFTS FUNDRAISER
ADDMISSION TO DENVER SCHOOL OF THE ARTS
NANOWRIMO – NATIONAL NOVEL WRITING MONTH WITH LAUREN HALLSTROM
9th ANNUAL SCARY STORIES AT THE DENVER MUSUEM OF MINIATURES, DOLLS, AND TOYS
ILLUSTRATE YOUR STORY WITH JAM PUBLISHERS
CREATING NEW WORLDS
SPOKEN WORD POETRY
JOURNALISM
CREATIVE NON-FICTION
CHOOSE YOUR OWN ADVENTURE
ILLUSTRATIONS FOR STORIES
8TH ANNUAL VALENTINE'S POETRY WORKSHOP AND FUNDRAISER
2016
WRITING FOR ADMISSION
SCARY STORIES
CREATING COLORFUL CHARACTERS
ILLUSTRATE YOUR STORY!
REVIEW IT! THE ART OF WRITING BOOK REVIEWS @BOOKBAR
EVERYDAY MAGIC
OUR 7TH ANNUAL POETRY FOR VALENTINE'S DAY WORKSHOP AND FUNDRAISER
THE ART OF FLASH FICTION
SONGWRITING
2015
SONGWRITING with Snake Rattle Rattle Snake
DENVER WRITES UNPLUGGED: MUSIC, INTERVIEWS AND REVIEWS
CAMPFIRE STORIES
SLAM POETRY with JOVAN MAYS
10-MINUTE PLAY IN TWO PARTS