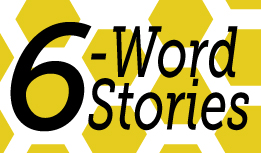 We got together to write about true stories–but we could only use SIX words to do it.
To warm up, we read examples of six-word stories from Not Quite What I Was Planning, Revised and Expanded Deluxe Edition: Six-Word Memoirs by Writers Famous and Obscure by Larry Smith (2008) and were surprised that an entire story could be told with just six words. Two of our favorites:
Perpetual work in progress. Need editor. (Sherry Fuqua-Gilson)
Watching quietly from every door frame. (Nicole Resseguie)
We talked about how we felt like we knew the people who wrote them–we understood exactly what they meant. With only six words, we were able to conjure up an image of each writer, and we were inspired to write our own. Here they are. As one volunteer says, "These are incredible. They're so touching and poignant and poetic and wow." We hope you enjoy them!
Julia T., age 10:
The things people do not think.
Watching for clues, clues of murder.
Life, death, war, peace, magic, ME!
Best friends through life and death.
Watching, waiting, observing. Stealing a cookie.
Sneaking into sister's room. Oops, caught!
A blank page, why give in?
Pencil of gold, paper of dreams.
Mom! You know your ring? Well…
Jab, poke, lunge, the final point.
Chocolate? Veggies? What madman made this?
Flashing silver, fading footsteps, a scream.
Who needs instructions? A chainsaw apparently.
Dark crimson dripping, a knife clattering.
Silence, the holocaust is finally over.
Safe, my guard dropped, arrow flying.
Cup of life, blood of immortals.
Solid things fade, memories are forever.
New friends, new ideas, all fun!
Ella B., age 11
I fell. I forgot to cry.
A flaw in my flawless plan.
Cobblestone streets, far away from home.
Out of my shell. Nothing changed.
Your appearance becomes others' thoughts.
Doors to open, more to close.
Spinning freely, no rules be told.
Funky, spunky, forever we will write.
Pencils and paper, ideas spark imagination.
Ellen R., age 10
Follow sensible rules. Break unreasonable ones.
Brother's room. Steal underwear. Soak. Freeze.
Love. Betrayal. Bloody stumps. Broken heart.
Liv H., age 10
Mom! Mom! Liv ate my chocolate!
What? It was just sitting there.
Foil knife vs. pickle = sister-love.
Books, chair, alone, quiet. Ah, paradise.
Not bad, good. Not normal, weird.
Bad poem, odd decision, really Apollo?
Jonas S., age 7
I don't like pears, everyone does!
I went camping in the mountains.
Rowan H., age 9
Regret is guilt, but good cookie.
Chocolate shake good, veggies a no-no.
Coffee shop above, imagination down below.
Boys are awesome, girls are better.
Expressing feelings in words, Denver Writes.
Ellie S., age 11
I'm here, can you see me?
But dad! I didn't do anything, ugh.
Too many holes to poke through.
Lilia S., age 11
Out of laughter comes deep memory.
Pencil poised, paper there, ideas not.
Clown's balloon against sky's blue backdrop.
Kat E., age 13
boy lied. girl cried. love died.
sacrifice to make, heart to break.
breath of life, death by knife.
loved her, but he left her.
as skies turn gray, happiness fades.
big city full of little expectations.
it's all fun and games until…
pen and paper, become the dream-maker.
Phoenix M., age 10
The pen breaks, black ink everywhere.
Laughing, playing, bouncing, until I fall.
Big eyes, nose twitching, running away.
I run, I trip, I scream.
Kevin Peterson (volunteer)
Nothing said to nobody in particular.
In constant need of creative validation.
Don't overthink it, just write it.
Six words can say so much.
I asked. My cat said nothing.
I said: 'I think that's right.' Or 'I think that's right,' I said.
Cold rain falls on midnight roads.
Icy rain falling over dusk roads.
Fluffy snow settles on quiet roads.